Fumigations in Sacramento -- Fumigation Alternatives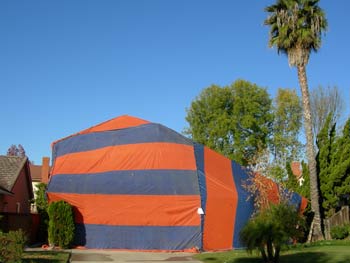 In the old days -- about five years ago -- the only way to kill drywood termites or wood boring beetles was to fumigate the house. Fumigation is an expensive and time consuming process that takes three to five days and the occupants must leave the house while it is being done. The houses were usually fumigated with methyl bromide or Vikane, both are lethal gases that kill everything within the structure.
Recent advances in pesticides have given pest control professionals new tools to eliminate drywood termites or wood boring beetles without fumigation. Termidor, Tim-Bor and Premise Foam can be used to locally treat the infested portion of the house and eliminate the infestation at less cost and less disruption.



Arden Termite and Pest Control is a pioneer in the use of localized treatments as an alternative to fumigation. Call them at (916) 338-4700 for a free evaluation to determine what is the best solution for you. They can often save you money and solve your problem! Their treatments are guaranteed to kill your drywood termites or wood boring beetles.
Localized treatments are more environmentaly friendly than fumigating the entire house with thousands of cubic feet of lethal gas which is then released into the atmosphere.
Structures that have heavy infestations may require fumigation if the infestation extends into inaccessible areas that cannot be locally treated.
---
Termidor is also now approved for wood injection control of drywood termites. Now homeowners can fight drywoods more conveniently and safely than ever before.

Using Termidor will require a licensed termite inspector to identify the location of the drywood termites and galleries so the Termidor finished spray solution (or foam) can be directly injected into these active galleries. For drywood termites, Termidor begins to take affect within a day after treatment, however 95% control can be achieved in 3-6 days after treatment. Preliminary testing with Termidor has shown 100 percent control of drywood termites 60 days after a single application.
---
Tim-Bor is a unique product for the protection and treatment of wood against all wood destroying organisms. The Tim-Bor Treatment provides protection because the active ingredient, Disodium Octaborate Tetrahydrate, does not breakdown.

The Tim-Bor solution penetrates into the wood, treating more than just the surface. Sodium Borate functions as a slow activating stomach poison in insects. It is accumulated while they are feeding. Since Borates are slow acting insecticides these termites can move throughout the colony and spread the insecticide by the feeding of nymphs, soldiers and reproductives.
---
Premise Foam is the latest innovation from Bayer Environmental Science. It's a simple, unique way to deliver foam that will change the way termites and ants are controlled.

Premise Foam is the only non-repellent insecticide available in an instant, portable application. Each can delivers about five gallons of foam at an expansion ratio of 30:1, without the need for additional products, mixes or equipment.
Premise Foam is approved to control subterranean and drywood termites. It's ideal for use in termite galleries, wall voids and floor joists.
---
Fumigations in Sacramento | Vikane | Drywood Termite Treatments ...

Arden Termite & Pest Control
Member Better Business Bureau
Save 20% Off any other companies written estimate for termite treatments
916-338-4700
5777 Madison Ave Ste 820
Sacramento, CA 95841

---
Certified Termite Inspections
Specializing in termite control. Guaranteed termite treatments. We also provide real estate inspections for sales, refinancing, foreclosures. Written reports are ready within one business day.
916-338-4300
Sacramento, CA 95814

---
More 4 Less Pest Control
530-957-5425
1390 Broadway Ste B-256
Placerville, CA 95667

---
Gold Miner Pest Control Inc
530-346-8379
P O Box 1915
Colfax, CA 95713

---
Smileyís Pest Control
916-988-2580
Folsom, CA 95630

---
Rio Linda Pest Control
916-992-0912
Silver Crest Cir
Rio Linda, CA 95673

---
Alta Sierra Pest Control
916-791-7928
Roseville, CA 95746

---
Apex Pest Control
916-454-2739
4541 Harlin Dr
Sacramento, CA 95826

---
Outback Pest Control
916-214-8299
Elk Grove, CA 95758

---
Starbugs Pest Control
916-519-5126
Sacramento, CA 95820

---
Pro Active Pest Control
916-380-0402
Rancho Cordova, CA 95742

---
The Pest Guys
916-599-3232
Elk Grove, CA 95624

---
Pro Active Pest Control
916-380-0402
501 Gibson Dr
Roseville, CA 95678

---
Mission Pest Control
916-205-4300
6817 Sao Tiago Way
Elk Grove, CA 95757

---
Bonner Pest Control Services
916-967-9231
10512 Fair Oaks Blvd
Fair Oaks, CA 95628

---
Specialized Pest Patrol
916-987-9559
9477 Greenback Ln Ste 518
Folsom, CA 95630

---
Pioneer Pest Control
916-835-0089
Citrus Heights, CA 95611

---
Advanced Pest Control of Sacramento
916-990-9221
Folsom, CA 95630

---
Smileyís Pest Control
916-899-5591
Roseville, CA 95678

---
Good Earth Pest Control
916-682-2908
Elk Grove, CA

---
Two Brothers Pest Control
916-686-9995
Elk Grove, CA 95759

---
Antelope Hills Pest Control
916-645-9292
Lincoln, CA 95648

---
Elk Grove Exterminators
916-660-5026
9245 Laguna Springs Dr
Elk Grove, CA 95758

---
Direct Hit Pest Control
916-992-6870
Rio Linda, CA 95673

---
Grade A Pest Control
916-436-5021
8732 Fair Oaks Blvd Ste 25
Carmichael, CA 95608

---
Suburban Pest Control
916-706-2159
Rancho Cordova, CA 95670

---
Viper Pest Control
530-622-9924
P O Box 908
Diamond Springs, CA 95619

---
Bamford Pest Control
209-912-9678
899 Almanor Way
Galt, CA 95632

---
Master Pest Patrol
916-747-3099
Elk Grove, CA 95759

---
Jones Bros
916-965-0867
Fair Oaks, CA 95628

---
Awesome Pest Control
916-361-7234
Sacramento, CA 95827

---
Applied Pest Management
916-481-9838
4551 Orange Grove Ave
Sacramento, CA 95841

---
Critter Ridderz Pest Control
916-205-5837
5870 William In
Lincoln, CA 95648

---
Spiderman Pest Control Services
916-897-1817
Folsom, CA 95630

---
Thomas Wildlife Control
916-500-9027
Folsom, CA 95630

---
Applied Pest Management Inc
916-481-9838
4551 Orange Grove Ave
Sacramento, CA 95841

---
Economy Pest Control
530-273-1766
11235 Cliffs Pl
Grass Valley, CA 95949

---
Jones Bros Capitol City Pest Control
916-783-0867
Roseville, CA 95661

---
Blizzard Pest Management
916-966-1100
Sacramento, CA 95825

---
Jones Bros Pest Control
916-739-2238
3650 Omec Park Dr
Rancho Cordova, CA 95742

---
Aptive Environmental
916-587-2847
1767 Tribute Rd Ste D1
Sacramento, CA 95815

---
Real Pest Management
916-505-7776
Mather, CA 95655

---
Capitol City Jones Bros Pest Control
916-682-5998
Elk Grove, CA 95624

---
Cimex Service Solutions, Inc.
916-374-8000
2286 Del Monte St
West Sacramento, CA 95691

---
Economy Pest Control
916-632-6802

---
Economy Pest Control
916-632-6802
11235 Ciffs Pl
Grass Valley, CA 95677

---
Botanical Solutions Pest Management
916-209-3254
69 Lincoln Blvd Ste A 330
Lincoln, CA 95648

---
Ruffled Feathers Bird Control
916-333-3900
3124 Ashley Way
Sacramento, CA 95833

---
Pest be Gone
916-257-4942
Rocklin, CA 95765

---
Koby Pest Control
916-984-0964
2874 Crystal Springs Rd
Camino, CA 95709

---
EcoGuard Pest Management
916-817-2847
808 Bidwell St Ste D
Folsom, CA 95630

---
Pointe Pest Control
916-614-9313
1832 Tribute Road
Sacramento, CA 95815

---
Bugs 2 Rest Pest Control
916-370-9683
Sacramento, CA 95831

---
Jones Bros Capitol City Pest Control
916-638-0867
Sacramento, CA 95814

---
Termite Companies In Sacramento CA
Zap Termite & Pest Control
916-424-1155
8880 Cal Center Dr Ste 400
Sacramento, CA 95826


See also: ZapTermite.com
---
Bugman Pest Control Inc
916-791-4044
10137 Folsom Blvd
Rancho Cordova, CA 95670

---
Quality Pest Control of West Sacramento
916-341-9789
754 Northport Dr
West Sacramento, CA 95691

---
Ecology Pest Control
916-369-2847
Sacramento, CA 95814


See also: BanPesticides.com
---
Types Of Termites With Wings
Golden Eagle Pest Control
916-685-3322
8698 Elk Grove Blvd Ste 1-261
Elk Grove, CA 95624

---
Carmichael Termite Control
Earthwise Pest Management
916-668-8888
5150 Fair Oaks Blvd Ste 101/220
Carmichael, CA 95608

---
HomeShield Pest Control
916-802-1234
Sacramento, CA 95814

---
Termite Control Cost Estimates
Maceís Termite Control
916-386-1296
8140 Industrial Pkwy Ste 5
Sacramento, CA 95824

---
Dampwood Termites Vs Drywood Termite
Western Exterminator Company
888-729-5205
835 57th St
Sacramento, CA 95819


See also: WesternTermite.com
---
Special Service Bird Control
916-715-0138
2301 Vehicle Dr Ste A
Rancho Cordova, CA 95670

---
Superior Pest Control of Sacramento
916-385-0276
Sacramento, CA 95829

---
The Noble Way Pest Control
916-349-2044
5757 Auburn Blvd
Sacramento, CA 95841

---
Neighborly Pest Management
916-969-5211
Fair Oaks, CA 95628


See also: Neighborhood-Pest-Control.com
---
Koby Pest Control
530-626-6774
P O Box 2137
Placerville, CA 95667

---
National Pest Control Companies
Orkin Exterminating Company
916-361-0504
Sacramento
Sacramento, CA 95814

---
Advanced Integrated Pest Management
916-441-0590
Sacramento, CA 95814

---
How To Find The Best Pest Control Company
Neighborly Pest Management
916-782-3767
324 Riverside Ave
Roseville, CA 95678


See also: NeighborsPestControl.com
---
Aantex Pest Control Norcal
916-483-6696
4755 Auburn Blvd Ste 5
Sacramento, CA 95841

---
Koby Pest Control
916-984-0964
2874 Crystal Springs Rd
Camino, CA 95709

---
Drywood Termites Treatment
George Webb Termite Control
916-213-5638
3177 Parody Way
Lincoln, CA 95648

---
Orangevale Pest Control
916-214-8963
7038 Woodmore Oaks Dr
Orangevale, CA 95662

---
Ecotech Pest Management
916-515-9420
Sacramento, CA 95816

---
Fast Action Pest Control
916-714-7274
10471 Grant Line Rd.
Elk Grove, CA 95624

---
Earth Guard Pest Services
916-457-7605
4220 Stockton Blvd
Sacramento, CA 95820

---
Sniper Pest Control
916-686-7105
10471 Grant Line Rd Ste 150
Elk Grove, CA 95624

---
Fair Oaks Termite Control
Ecology Pest Control
916-961-2847
Fair Oaks, CA 95628


See also: FairOaksTermite.com
---
Blizzard Pest Management Inc
916-966-1100
Fair Oaks Blvd, Suite E 10512
Sacramento, CA 95825

---
Earth Guard Pest Services
916-457-7605
9245 Laguna Springs Dr Ste 200
Elk Grove, CA 95758

---
Pest Control Companies Sacramento
Cost Less Pest Control
866-737-8477
Sacramento, CA

---
Home Safe Pest Control
916-251-7314
Rocklin, CA 95677

---
Folsom Pest Control
Finley Home Services
916-741-2847
3031 Stanford Ranch Rd Ste 2
Rocklin, CA 95765

---
Drywood Termite Swarmers
Pegasus Pest Control
916-428-0578
Elk Grove, CA 95624

---
JRB Pest & Sanitation
916-213-7942
3428 Grant Park Dr
Carmichael, CA 95608

---
ProServ Pest Management
916-334-7378
6643 32nd St Ste 101
North Highlands, CA 95660

---
Alterra Pest Control
916-568-7378
1767 Tribute Rd Ste D-1
Sacramento, CA 95818

---
Termites Found During Home Inspection
North American Home Services
916-407-3171
4617 Auburn Blvd
Sacramento, CA 95841


See also: NorthAmericanTermite.com
---
Explorer Pest Management
916-933-7424
3010 Stanford Ln
El Dorado Hills, CA 95762

---
Explorer Pest Management
916-441-4995
Sacramento, CA 95814

---
Bugs 2 Rest Pest Control
916-370-9683
Citrus Heights, CA 95621

---
A Plus Pest Control
916-385-0270
Elk Grove, CA 95757

---
Placer Snake Removal
916-509-1087
3995 Clover Valley Rd
Rocklin, CA 95677

---
Advantage Pest Control
916-899-1222
Lincoln, CA 95648

---
Barrier Pest Solutions
916-683-2929
Sacramento, CA 95828

---
007 Pest Control
916-247-5819
5050 Laguna Blvd Ste 12 #468
Elk Grove, CA 95758

---
Subterranean Termite Mud Tubes
Parish Termite & Pest Management, Inc.
916-722-5000
7606 Pratt Ave
Citrus Heights, CA 95611

---
Jones Bros Capitol City Pest Control
916-852-8800
3650 Omec Park Dr
Rancho Cordova, CA 95742

---
FHA Termite Inspection Requirements
Doyles Termite and Pest Control
916-452-1107
8167 Alpine Ave Ste A
Sacramento, CA 95826

---
Subterranean Termite Swarmers
Bouey Termite & Construction
916-733-0520
3639 4th Ave
Sacramento, CA 95817

---
Termite Companies Sacramento
Homeguard
916-568-7300
231 Lathrop Way
Sacramento, CA 95815

---
Granite Bay Pest Control
Hydrex Pest Control
916-334-0142
6416 Watt Ave
North Highlands, CA 95660


See also: GraniteBayTop10.com
---
Orkin Sacramento
Orkin Exterminating Company
916-726-4562
Sacramento, CA 95827


See also: Pest-Exterminator.com
---
Best Pest Control Companies
Best Price Pest Control
916-481-7700
8352 Summer Creek Ct
Sacramento, CA 95828

---
Roseville Home Pest Control
916-827-3944
1420 E Roseville Pkwy Ste 140-128
Roseville, CA 95661

---
Master Pest Patrol
916-747-3099
Elk Grove, CA 95759

---
All In One Pest Control
916-791-2847
730 Vernon St
Roseville, CA 95678


See also: PlacerTop10.com
---
Alpha Omega Integrated Pest Management
209-912-9383
994 Doradell Court
Galt, CA 95632

---
Pest Inspection Sacramento CA
Champ Pest Control
916-631-9373
11257 Coloma Rd Ste A-5
Gold River, CA 95670

---
Clark Pest Control
916-925-7000
4750 Beloit Dr
Sacramento, CA 95838

---
Sacramento Pest Control Companies
Pegasus Pest Control
916-682-4746
1500A S River Rd
West Sacramento, CA 95691

---
Pest Control Sacramento Cost
Ecofirst
916-924-7378
1767 Tribute Rd Ste E
Sacramento, CA 95815

---
Sacramento Orkin Pest & Termite Control
916-414-8729
3324 Business Park Dr # C
Sacramento, CA 95827

---
Pest Control Center, Inc.
916-344-4400
3845 Madison Ave
Sacramento, CA 95660


See also: FolsomTop10.com
---
Pest Control In Sacramento Area
HomeTeam Pest Defense
916-928-1208
1170 W National Dr Ste 90
Sacramento, CA 95834

---
Official Pest Prevention
916-686-7960
10139 Iron Rock Way Ste 160
Elk Grove, CA 95624

---
Trapmasters California Nuisance Wildlife Services
916-587-2785
Sacramento, CA 95841

---
Subterranean Termite Swarmers
United Termite & Home Services
916-265-5300
Antelope, CA 95843

---
Hardrock Termite Control
916-363-3603
Sacramento, CA 95814

---
Aantex Pest Control
916-434-2208
Lincoln, CA 95648

---
Pogues Pest Control
916-220-1055
9373 Twinlakes Ave
Orangevale, CA 95662

---
American River Pest Control Inc
916-351-0100
P O Box 150
Shingle Springs, CA 95682

---
Bell Pest Control
916-512-6024
9136 Elkmont Dr
Elk Grove, CA 95624

---
Termite Inspection For Home Sale
Cal-Pro Home Solutions
916-517-6780
983 Reserve Dr
Roseville, CA 95678

---
Pest Control Elk Grove California
Elk Grove Termite Control
916-354-4104
Rancho Murieta, CA 95683

---
Hansonís Certified Termite Inspections
916-338-4300
5777 Madison Ave Ste 820
Sacramento, CA 95841

---
Ambush Pest Control
916-687-4823
Wilton, CA 95693

---
HomeShield Pest Control
916-802-1234
El Dorado Hills, CA 95762

---
Cheap Pest Control Sacramento
Dumont Pest Control
916-344-3510
6643 32nd St Ste 104
North Highlands, CA 95660

---
Wright Pest Control
916-645-3686
Lincoln, CA 95648

---
Hangtown Pest Control
530-622-1912
P O Box 222
Placerville, CA 95667

---
Duncan Pest Control
916-969-5335
1750 Vernon St Ste 2
Roseville, CA 95678

---
Patrickís Pest Control
916-807-1588
372 Florin Rd Ste 131
Sacramento, CA 95831

---
Green Light Termite & Pest
916-320-8625
West Sacramento, CA 95691

---
One-Shot Pest Control
916-381-5900
Sacramento, CA 95814

---
Sacramento Termite Control
Sunrise Pest Control
916-944-7378
4032 Leos Ln
Carmichael, CA 95608


See also: SacramentoTermite.com
---
Capital Pest Control
916-686-8829
PO Box 2399
Elk Grove, CA 95759

---
Subterranean Termite Mud Tubes
Pinnacle Pest Control
916-381-5793
600 Broadway Ste C
Sacramento, CA 95818


See also: Sacramento-Termite-Baiting.com
---
Sacramento Valley Pest Control
916-787-4160
Lincoln, CA 95648

---
Sacramento Valley Pest Control
916-787-4160
Woodland, CA 95695

---
Pest Control In Sacramento
Pest Control Center
530-622-4810
5761 Pleasant Valley Rd
El Dorado, CA 95623


See also: NYSPestControl.org
---
Rocklin Pest Control Services
916-630-1212
3101 Sunset Blvd. Suite 8B
Rocklin, CA 95677


See also: RocklinTop10.com
---
Goodfellows Pest Control
916-478-9843
9435 Soaring Oaks Dr
Elk Grove, CA 95758

---
Pestmaster Services Incorporated
916-646-9282
PO Box 1176
North Highlands, CA 95660


See also: TermiteDirectory.com
---
Eco Shield Sacramento
916-737-7616
3453 Ramona Ave, Ste 12 Ste 12
Sacramento, CA 95826

---
Subterranean Termite Damage Repair
Millennium Termite & Pest
916-362-4400
9900 Horn Rd
Sacramento, CA 95827

---
Golden Bear Pest Control
916-983-7378
Folsom, CA 95630

---
Bug Zappers Pest Control
916-339-2847
Sacramento, CA 95814

---
Termite Inspections Sacramento
Marathon Termite Control
916-442-1950
Sacramento, CA 95814


See also: AffordableTermite.com
---
Blizzard Pest Management
916-966-1100
Fair Oaks Blvd
Fair Oaks, CA 95628

---
Roseville Pest Control
HomeShield Pest Control
916-802-1234
Rocklin, CA 95677

---
Subterranean Termite Damage Repair
Twin Home Services
916-344-8946
3600 Madison Ave Ste 62
Sacramento, CA 95660

---
Clark Pest Control
916-965-9000
Fair Oaks
Folsom, CA 95630

---
Rodent Control Elk Grove CA
Hamiltonís All American Home Services
916-685-9155
Elk Grove, CA 95624

---
Aardvark Structural
916-289-4579
7250 Auburn Blvd Ste 244
Citrus Heights, CA 95610

---
Exterminators In Sacramento
Desert Pacific Exterminators
888-616-2847
5150 Fair Oaks Blvd Ste 101/220
Carmichael, CA 95608

---
Folsom Pest Control
916-988-0251
Folsom, CA 95630

---
Experienced Pest Services
916-275-2730
Elk Grove, CA 95758

---
Bug-O-Rama
916-929-9791
Sacramento, CA 95814

---
Official Pest Prevention
916-332-1023
Sacramento, CA 95814

---
Simlick Termite & Pest Control
916-786-3808
Roseville, CA 95661

---
Bradford Pest Control
916-517-9177
Vacaville, CA 95696

---
Pest Control Placer County
Clark Pest Control
530-823-6494
12300 Locksley Lane
Auburn, CA 95602

---
Aantex Pest Control
916-961-8330
Fair Oaks, CA 95628

---
Bugs & Rugs
916-723-1654
Roseville, CA

---
Blakeís Pest Control
916-485-1191
PO Box 661562
Sacramento, CA 95866

---
Pardee Pest Control
916-944-1785
Sacramento, CA 95814

---
Clark Pest Control
916-685-2038
Elk Grove, CA 95624

---
Rancho Cordova Pest Control
Clark Pest Control
916-635-7770
11285 White Rock Rd
Rancho Cordova, CA 95742

---
Subterranean Termite Damage
Terminix International
916-419-2936
1168 W National Drive
Sacramento, CA 95834

---
Stevenson Pest Control
916-645-3772
183 Flocchini Cir
Lincoln, CA 95648

---
Cal King Pest Control
916-434-8831
Lincoln, CA 95648

---
Suburban
916-706-2159
Rancho Cordova, CA 95741

---
Above & Beyond Pest Control
916-780-7378
7935 Cheyenne Ct
Antelope, CA 95843

---
Azevedoís Pest Control
916-478-1555
Elk Grove, CA 95759

---
Affordable Family Pest Control
916-236-7878
Antelope, CA 95843

---
Sacramento Pest Control
Orco Termite & Pest Control
916-427-8667
4949 Florin Perkins Rd Ste 10
Sacramento, CA 95826

---
Safety 1St Pest Management
916-782-1750
2110 March Rd
Roseville, CA 95747

---
Orco Termite Control
916-427-8667
4480 Newman Ct Ste 10
Ione, CA 95640

---
How To Get Rid Of Carpenter Ants
Clark Pest Control
916-786-3808
Roseville, CA 95661

---
Drywood Termites Treatment
All American Home Services
916-972-9155
Sacramento, CA 95814

---
Complete Termite Man
916-714-1164
Sacramento, CA 95814

---
Applied Pest Management-Paratex Termite
916-481-9838
Sacramento, CA 95814

---
Pest Control Sacramento CA
Dewey Pest Control
916-386-4677
7290 55th Street
Sacramento, CA 95823

---
River Rat Pest Control
916-223-3227
9922 Inwood Road
Folsom, CA 95630

---
Golden Hills Pest Control
916-333-3738
Sacramento, CA 95838

---
007 Pest Control
916-686-7105
Elk Grove, CA 95624

---
Champ Pest Control
916-782-5919
Citrus Heights, CA 95621

---
Advanced Animal Wildlife Control
916-968-1441
Sacramento, CA 94203

---
One On One Pest Control
916-429-6621
5320 Eden View Dr
Sacramento, CA 95823

---
Chipís Pest Control
916-988-0189
Folsom, CA 95630

---
Aantex Pest Control
916-783-5100
Roseville, CA 95661

---
D N A Pest Control
530-415-6447
Yuba City, CA 95993

---
Hill Country Pest Solutions
530-320-7448
11702 Quartz Dr #4
Auburn, CA 95602

---
Golden Hills Pest Control
916-992-1704
North Highlands, CA 95660

---
Termites Vs Carpenter Ants
Home Shield Pest Control
916-802-1234
4470 Yankee Hill Rd. Ste 160
Rocklin, CA 95677

---
Hometeam Pest Defense
916-348-1247
3628 Madison Avenue
North Highlands, CA 95660

---
CMC Termte & Pest Control Service
916-635-5031
11355 Folsom Blvd Ste A
Rancho Cordova, CA 95742

---
Roseville Lawn Tree & Shrub Care
916-441-0590
Sacramento, CA 95814

---
Clark Pest Control
916-395-6161
South
Sacramento, CA 95814

---
Termites Treatment Methods
Clark Pest Control
916-723-3390
Citrus Heights, CA 95621

---
Orco Termite Control
916-689-7310
Elk Grove, CA 95624

---
Twin Termite & Pest Control
916-344-8946
3600 Madison Ave Ste 62
Sacramento, CA 95660

---
Ameritech Termite
916-480-9099
4034 Wayside Ln Ste D
Carmichael, CA 95608

---
Clark Pest Control
916-988-1077
Folsom
El Dorado Hills, CA 95762

---
WDI Inspections
Complete Termite Man
916-416-0419
Elk Grove, CA 95624

---